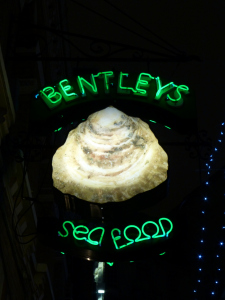 To have an oyster bar in street called 'Swallow' is a wonderful coincidence, but Bentley's Oyster Bar & Grill is a storied historic place right in the heart of the west end, just a few steps from both Piccadilly and Regent Street.  For those seeking to enjoy the wonderful taste and flavour of native British oysters this is the place to come.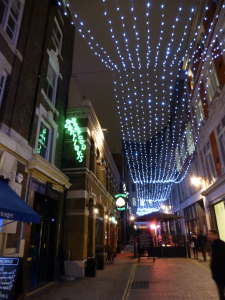 History:  Bentley's originally opened in 1916 bringing oysters to London from their family's proprietary oyster beds on the West Mersea coast, east of Chelmsford.  This area has always been known for its oysters and an annual oyster festival is still held here in September.  Native oysters can be harvested from September through the end of April, and the festival marks the beginning of the season.
Today the restaurant sources most of its natives from the same area (West Mersea), as well as Whitstable (out towards Margate), Galway in Ireland and from Loch Ryan Oysters with beds around the UK.  Natives are recognised by their flat, round shell and firm flesh.  They are graded 1-3 (No.1 being the largest). They take at least five years to reach full size, though some take up to 10 years.
'Rocks' also appear on the menu, these are essentially foreign oysters imported to British waters.  Since rocks don't spawn in the summer, they are harvested year-round.
Today:  In 2005 the restaurant was bought by the chef, Richard Corrigan, a well respected chef in London's dining scene and a bit of a TV celebrity.  While he freshened up the decor of the restaurant, the original marble oyster bar and the art deco windows were kept.  Collectively the restaurant has retained its nostalgic charm.  While the upstairs offers a more traditional dining room (reservations recommended) with an Edwardian feel, the downstairs bar has more of a bistro vibe.  You are also more likely to find a seat here if you have no reservation.  Live music is played downstairs Thurs-Sat evenings.  Bentley's also maintains a presence inside Harrod's with their Bentley's Sea Grill.
Special Events:  Bentley's also offers cooking classes with their current head chef for those who want to learn about everything to do with fish.  Also periodic special oyster tasting events are held.  Since April marks the end of the native season, there are several Oyster Master Classes scheduled between now and the end of the month.  See their website for more details: http://www.bentleys.org
Located at:  11-15 Swallow St, W1B 4DG
Closest Tube:  Piccadilly