The answers and a little insight or trivia to each question and photo are below.  Thank you to all who read, liked or commented on the "Photo Challenge" post.
Answer #1: Phone Box: K2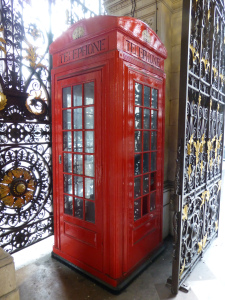 The Kiosk #2 (K2) prototype is still used as a phone box and can be found tucked behind the entrance gates to Burlington House on Piccadilly (the answer) just west of Piccadilly Circus (closest tube).  This is the original prototype from which the London phone box was born and was selected in 1924 by the Fine Arts Commission - hence it is appropriate that it is found here - at the home to the Royal Academy of the Arts.  The designer, Sir Giles Gilbert Scott, is also known for his design of Battersea Power Station, Liverpool Cathedral and Waterloo Bridge (among other buildings).
Answer #2: King Henry VIII's lost manor house.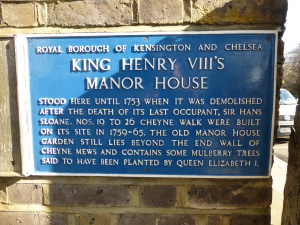 As the now revealed full plaque shows, 19-26 Cheyne Walk (the answer) in Chelsea is the site of King Henry VIII's now lost manor house (close to the north-east corner of the Albert Bridge).  There is a small covered walkway you can go down to view the remaining mulberry trees left over from his estate.  Henry VIII became familiar with this area because of his friendship with Thomas More (who lived nearby).  He bought and rebuilt the manor house as a gift to his wife, Catherine Parr.  Elizabeth lived here as a child, as did Anne of Cleeves after she divorced Henry.  As a result of the civil war, the Crown lost control of the house.  It was sold to Charles Cheyne in 1660 - hence Cheyne Walk, but demolished in 1753 (Closest tube: South Kensington).
Answer #3: A Walk.
William Henry Walk is a pleasant, but disjointed, walk along the south side of the Thames between Vauxhall and Battersea.  At the point where it is adjacent to Nine Elms Lane you are directly across the street from the "New Covent Garden Market" (the answer).  This market is the largest wholesale fruit, vegetable and flower market in the UK.  It supplies 40% of all of London's fruit and vegetables eaten outside the home, and 75% of all florists in the city.  Yet while most people are aware of the old Covent Garden, very few people visiting London are aware of where it went.  The market started trading here in 1974.  But come early if you want to see it in action… its a real wee hours of the morning market (closest tube: Vauxhall)
Answer #4: Victorian Architecture.
The magnificent structure of Leadenhall Market (the answer) was built in the late 19th Century - it has a similar feel to the magnificent Galleria Vittoria Emanuele in Milan.  It has been used in numerous films, including the Harry Potter series.  It has a rich history and thus will be a topic for a future blog post (closest tube: Monument).
Answer #5: Country in London.
While many visitors and locals alike enjoy Hyde Park, one of the large un-touristed spaces in London is Battersea Park (the answer).  Because there is no close tube station, this wonderful open expanse tends to be ignored.  This view is of the boating lake.  There is plenty to see and do in this park - its well worth a visit and it will be a topic for a future blog post (closest tube: Sloane Square or closer rail: Queenstown Road).
Answer #6: When aliens attack.
Brick Lane in East London has become a hub for street art - but the Grey Eagle Street Parking Lot (the answer) just west of Brick Lane behind the Old Truman Brewery complex is one of the best places to see large installation street art (closest tube: Aldgate East).
I hope these items encourage you to venture out to explore some parts of London you haven't been to before.