Many of the blogs I enjoy reading periodically post photo challenges - so since Easter weekend often entails Easter egg hunting I thought I'd offer my own photo challenge - just a few, hopefully not too challenging - and a little bit of history perhaps with each.  Each one is located in central London.
Question #1: Phone Box: K2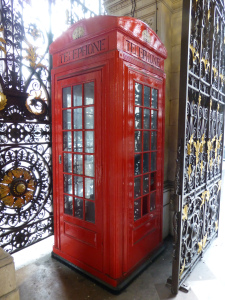 The first phone box design - K1 (for Kiosk #1) - was not a success so a new contest was held to come up with a better design.  Sir Giles Gilbert Scott won the competition and his new 'K2′ design became the prototype from which all our iconic phone boxes have come from.  His original wooden K2 prototype is still available for the public to use.  This is a picture of that prototype.  Where can you find it?
Question #2: King Henry VIII's lost manor house.

Located in Chelsea the original location of King Henry VIII's manor house is now marked only by a plaque and supposedly a few magnolia trees left over from his garden.  On what street can you find this marker?
Question #3: A Walk.
While London has many named walks, some are more well known that others.  This lesser known walk takes you right past the "new" version of one of London's most famous markets.  What market is it?
Question #4: Victorian Architecture.
This magnificent structure was built in the late 19th Century, but there has been a market here since the 14th Century.  Before that it was the site of the largest Roman Basilica built north of the Alps.  What market is this?
Question #5: Country in London.
This location gives the impression of being in the middle of the country, but you are still in central London.  It's one of my favourite places to go for a walk. Where are you?
Question #6: When aliens attack.
Street art continues to gain in popularity.  This parking lot contains some of the best large street art in London.  What is the name of the complex that this parking lot is part of (hint: they used to make a popular liquid here)?
Please post your answers in the comments section…  Happy Easter.