The Yvonne Fletcher Memorial ~ St. James's Square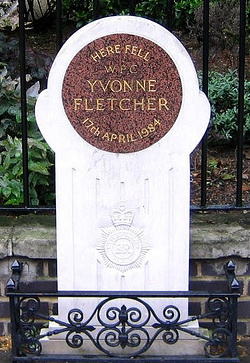 Visitors who walk through St. James's Square might be surprised to find a memorial marker outside the square's railings on the north east corner.  Recently the memorial was readorned with flowers and bouquets that were laid her just a few weeks ago to remember the events of 30 years ago.  For those who don't know the significance of this memorial, or those whose memories need refreshing, this past April marked the 30th anniversary of the shooting and murder of Policewoman Yvonne Fletcher by an individual from within the Libyan People's Bureau building (embassy) - one of the darker days in London's history and one of the most significant modern events that ushered in Libya's emergence as a pariah state.
History:   On April 17, 1984, a small group of protesters gathered outside the Libyan People's Bureau building in St. James's Square to protest against the Gaddafi regime.  At 10:18am, gunfire from this building was aimed at the demonstrators hitting 10.  Among those hit was 25 year old WPC Yvonne Fletcher, stationed there to control the event.  She was shot in the back.  She died within a few hours at Westminster Hospital.  As a result of the shooting a standoff with police and embassy personnel continued for 11 days which culminated in the severing of diplomatic relations that continued for 15 years.  The embassy personnel were allowed to leave London and the building was sold.
The memorial stone was unveiled by PM Margaret Thatcher in 1985 and can be viewed at the north-east corner of St. James's Square.  Westminster Council modified the square so that the area of the memorial could be extended into the roadway and protected with bollards to create a more significant pedestrian area.
Recent Developments:  Of most recent note was the 30 year anniversary remembrance - held here just a few weeks ago and attended by her family, the Metropolitan Police Commissioner and many others.  15 years ago, in 1999 the Libyan Government accepted responsibility and agreed to pay damages as well as allows British investigators into Libya to interview people.  Several of the suspects supposedly died in the overthrowing of Gaddafi in 2011.  At least one significant suspect is still believed to be alive and recent news stories have suggested that MI6 may be closing in concrete actions, such as an arrest or trial.
For those interest in current film footage and brief video by News at Ten of this event click here.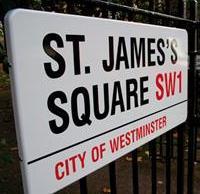 Located at:    St James's Square, London
Closest Tube:   Green Park or Piccadilly Circus