James Smith & Sons ~ a timeless Victorian umbrella shop!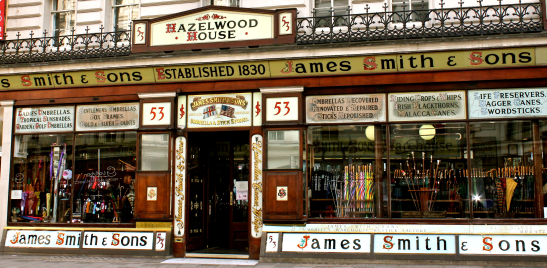 Located near the hustle and bustle of the High Street shops on Oxford Street is a place that takes you back in time to to the Victorian period of high quality products handmade in England.  While perhaps best known for umbrellas, James Smith and Sons also sells canes and walking sticks - all since 1830, making it the oldest shop of its kind in Europe, if not the world.  The building itself preserves its Victorian storefront and looks as if it has not changed in a hundred years.  Whether you want to purchase a classic British umbrella or a one off bespoke item, or if you just want to browse, a visit to James Smith and Sons should be on your list.
History:  In 1830 James Smith founded the business at the original location on Foubert Place in London's West End. His son moved the business to New Oxford Street in 1857 and also opened six other businesses including a hatter's and a barbershop. He passed the business onto some of his eight children and then moved to Tasmania with two of his children to start a farming business.  In 1930 one of his grandsons and the great grandson of the founder returned from Tasmania to run the business. The main business on New Oxford Street has remained virtually unaltered in 155 years with most of the fittings still there designed and installed in the stores infancy.  Umbrellas were made at the back of the shop and customers were served at the front. That tradition is still maintained but with the workshops situated in the basement where some umbrellas and walking sticks are still made.
Umbrellas:  The English weather has been good for those in the umbrella business, but James Smith and Sons also established a great reputation for quality and repair service. But what will surprise the visitor is the incredible range of umbrellas - from traveller versions (they disassemble for easy packing in luggage), to hand made classics, to carved wooden handles portraying numerous dog breeds and other animals, to folding umbrellas, to ladies versions,  to sun umbrellas with frills or carrying bags!
Unique and novelty products:  For a long time the company specialised in making ceremonial umbrellas, maces, and gentlemen's canes and these are in service around the world. Until the 1920's the cane or stick was an essential part of the well dressed male's attire. During World War I many hundreds of thousands of military 'swagger sticks' were sold to soldiers, but today the cane or stick is used mostly as an aid to walking.  Today these other products include some of the most wonderful accessories - especially for the person who has everything.  Consider the replica "drinking stick" used by the famous French poster artist Toulouse Lautrec. This stick is finished with a removable silver plate lid that unscrews revealing a long glass vial (to fill with your favourite drink) that has its own silver plate/cork lid. The stick also contains two small glasses to share a small drink with a friend!  (Photo credit: James Smith & Son website). Or how about a walking stick that continues dice hidden in its shaft for a quick game of chance… or one that the top unscrews off to reveal a corkscrew!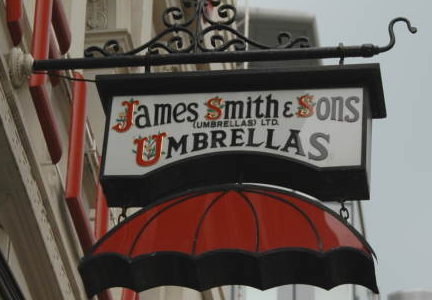 Located at:   Hazelwood House, 53 New Oxford St, London  WC1A 1BL
Closest Tube:  Tottenham Court Rd