Horse & Dolphin Yard… and a secret part of Chinatown unveiled!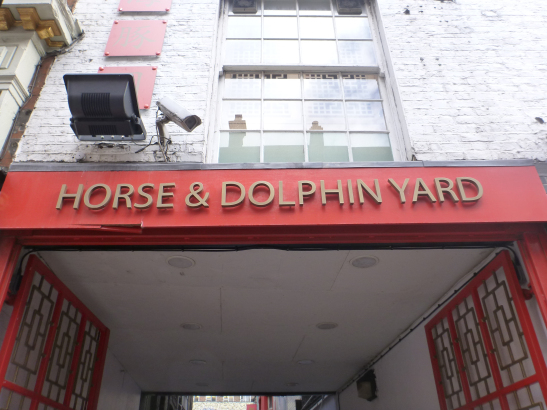 While Chinatown is viewed by many as overly touristy, it has a great history and is a wonderful part of London in its own right.  There are plenty of little courtyards and alleyways within Chinatown and one of my favourites with a great street name is the 'Horse and Dolphin Yard'.  Located off 'Macclesfield St', between 'Gerrard St' and 'Shaftesbury Avenue' is this small yard that was not that many years ago an unattractive service alley.  As part of the area's regeneration it is now a small hidden gem offering a peaceful place to enjoy a newly built pagoda and enjoy an award winning public art installation titled "1888".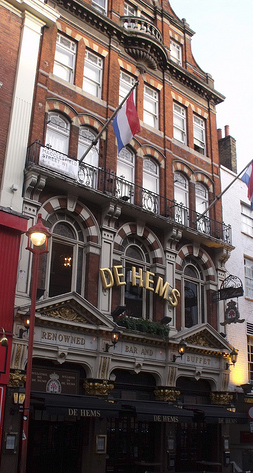 History:  The current dutch bar - De Hems - located on Macclesfield St just to the north of the yard was originally the 'Horse and Dolphin Coaching Inn', which dated from 1685.  'Horse and dolphin' is an odd combination for a pub name and I am yet to find a good reason for its history though there are examples of french words being anglicized in pub names so one could speculate that it was the 'Dauphin' at some stage - maybe The Prince's Horse (Le Cheval de Dauphin).
In the early 1800s this pub was owned by Bill "the Black Terror" Richmond - one of Britain's most famous and successful bare-knuckle boxers of the time.  Richmond was a former US slave who became servant to the Duke of Northumberland during the American War of Independence, and returned to England a free man with the Duke in 1777.  After retiring from his boxing career he purchased this pub.  It was sold when he died in 1829.  In 1890 the pub was rebuilt and renamed 'The Macclesfield' where it was run successfully as an oyster house by a retired Dutch sea captain.  It became a defacto home for all things Dutch in London, including the Dutch resistance during WWII.  In 1959 it was renamed De Hems.  The yard still retains the name of the original pub on this site.
1888:  In late 2007, HRH the Prince of Wales announced that his Prince's Foundation for the Built Environment was unveiling a new plan to help in the regeneration of Chinatown.  One component of this vision was to change Horse & Dolphin Yard from a litter filled service alley to a place of market stalls and small shops.  While the vision hasn't fully materialized, several significant steps have occurred that have transformed this small yard.  One was a competition for a public art installation that would represent Chinatown's history, heritage and diversity.  The competition was won by artist Wing Kei Wong and unveiled in 2008.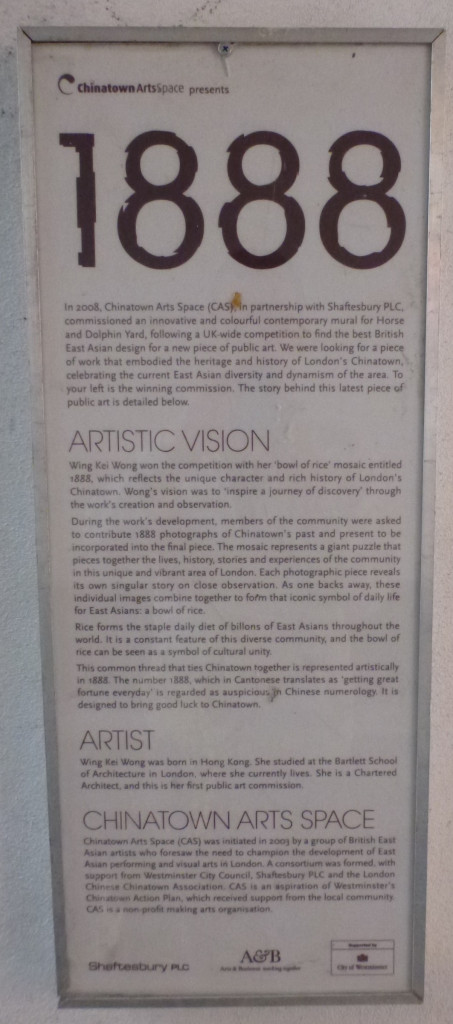 Originally it was planned to only be on display for 2 years but it is still there.  Titled '1888' (which phonetically translates in Cantonese as 'day of great fortune') it contains 1888 photographs of Chinatown's residents and visitors.  At a distance this photo-collage presents the image of a rice bowl.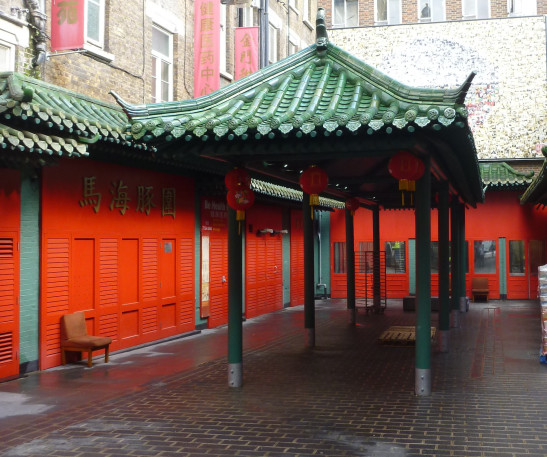 Further refurbishment of the yard occurred in advance of Chinatown's first family day held on 27 July 2014.  Located in the yard now is a wonderful pagoda which adds to the atmosphere.
A Chinatown secret:  Located just around the corner from Horse and Dolphin Yard at 13A Gerrard Street is a very nondescript doorway.  While hidden speakeasy may have been necessary during the prohibition of alcohol in the US in the early 20th century, there is no need for them in London yet there is still a certain appeal about the idea of a hidden drinking spot!  Arguably the hardest speakeasy to find in London, the unmarked door leads into the 'Experimental Cocktail Club' which stretches over 3 floors, with great decor and ambiance.
The only give away is a small 'Tripadvisor' sticker in the 1st floor window.  This club does allow a few walk-ins if you approach the uninterested looking man standing outside the door in the evenings, but the best way to gain access is to book by email (send to [email protected] before 7pm).  Open daily from 6pm-3am (midnight Sunday), and there's a £5 admission fee after 11pm.
Locations:  Horse & Dolphin Yard, London, W1D 5BW or 13A Gerrard St, London, W1D 5PS
Closest Tube:  Leicester Square