St. Andrew Undershaft ~ a survivor of the Great Fire & Blitz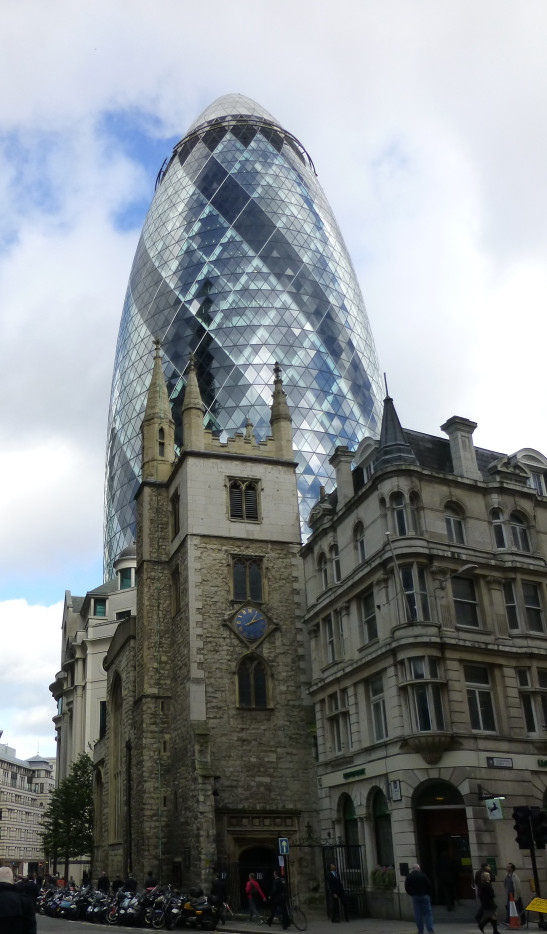 Located in the heart of London's financial centre, next to the Lloyds Building and towered over by the Gherkin, is St. Andrew Undershaft.  This church is easily lost among the iconic architecture that surrounds it and thus often goes unnoticed.  Yet as one of only a few complete medieval churches in London, this Gothic building is worth a visit.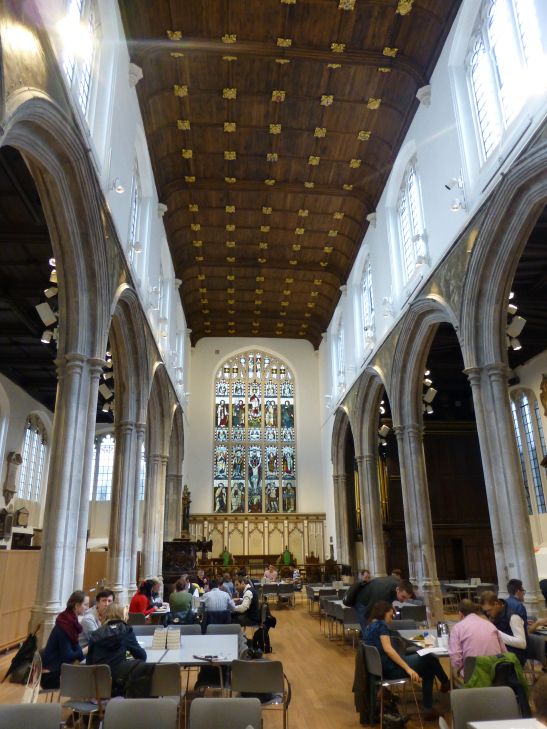 Undershaft:  Before the advent of addresses, places were often given descriptive names to assist people in finding them.  But with one of the more unusual church names in London, the natural question is why 'undershaft'?  In the early 1500s a massive maypole stood on the land adjacent to the church.  This giant pole, or shaft, was likely taller than the church, which lead to the expression 'undershaft' being added as a descriptive to St. Andrew's church.  For more history on maypoles click here.  The maypole was erected annually in spring - a tradition that continued until the 'Ill May Day Riots' of 1517.  These riots, during the reign of Henry VIII, were targeted against foreigners living in London who were deemed to be gaining excessive wealth.  The maypole was stored and not erected again.  In 1549 the nearby church of St. Katherine Cree declared that maypoles were heather idols and should be destroyed.  The giant maypole was destroyed, but its memory lives on.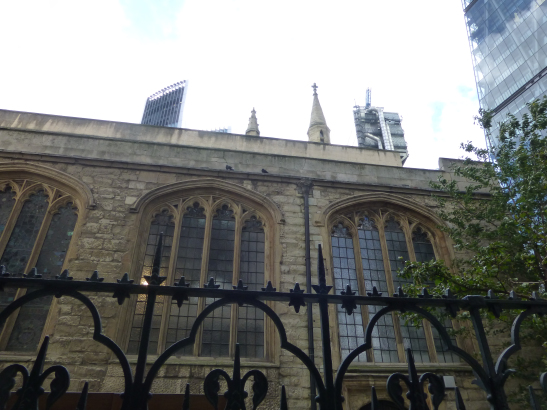 St. Andrew's History:  The first recording of a church on this site was in 1147.  It was rebuilt in the 1300s and again in the early 1500s.  It is this building that dates primarily from 1520-1535 that is still there today.  Unlike many buildings it survived the Great Fire intact.  The turret and pinnacles that crown the tower are later additions from 1883.  The building also survived the Blitz in WWII making it a rare survivor from the 16th Century.
Architectural Features:  The building contains many notable features, including 17th Century wood carvings, medieval roof bosses that include the insignia of Henry VIII and a memorial to Hans Holbein the Younger, who was Henry VIII's court painter.  The font was made by Nicholas Stone, the master mason to James I and Charles I. The organ was first installed in 1696.  While various enhancements have been made to the organ, it is a very historically significant instrument due to its age.  As such, it is consider a Grade I listed organ.
IRA Bombing:  In 1992 an IRA bomb attack in this part of London caused widespread damage.  Targeting the Baltic Exchange building at 30 St. Mary Axe, which at the time was the last remaining exchange floor in London, the 1-ton bomb caused massive damage.  While due consideration was given to restoring the Baltic Exchange, its damage was so extensive it was later demolished.  On the site now rises the Gherkin.  Nearby St. Andrew Undershaft lost a magnificent 17th Century window that depicted numerous English monarchs, but the building survived.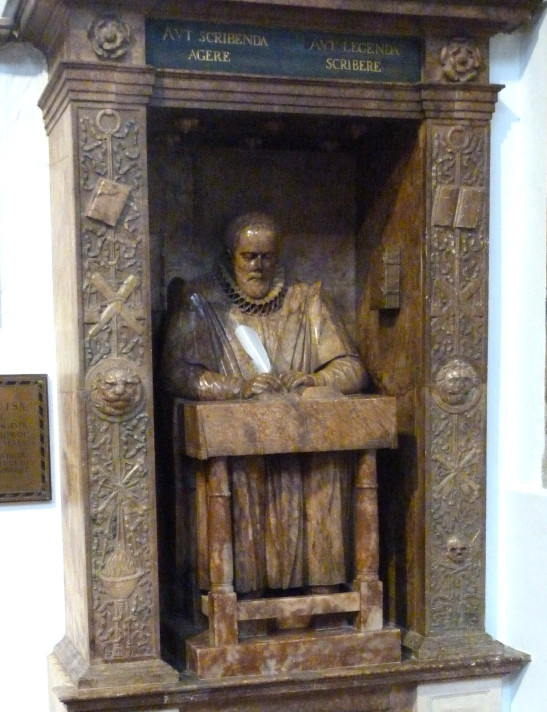 The John Stow Quill Ceremony - a London tradition:   Buried at the church is John Stow (d. 1605) who wrote the 'Survey of London' in 1598 - London's first accurate written survey.  Both he and his wife Elizabeth were members of this church.  His memorial, made from alabaster and erected by his wife, has him holding a quill.  This real quill pen is periodically replaced during a special ceremony overseen by the Lord Mayor.  This ceremony occurs once every three years in early April.  The next ceremony will be in 2017 and is hosted by the London and Middlesex Archaeological Society (see lamas.org.uk).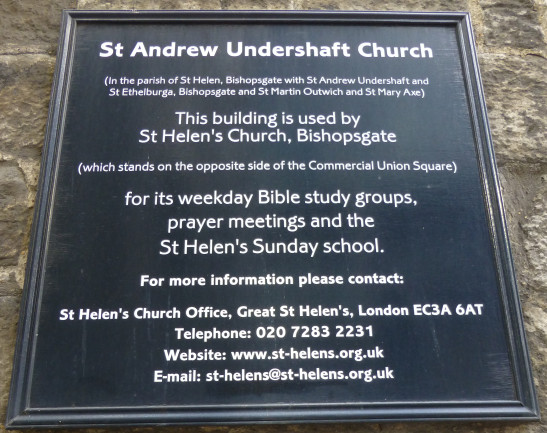 Visiting:  The church is primarily used for meetings and functions associated with nearby St. Helen's Bishopsgate.  To ensure a successful visit to the church you should contact St. Helen's first at 020-72832231.  Alternatively you could just visit and see if events are occurring and someone can let you in.  It is a secured building but generally there is no difficulty gaining access.  As a side note, if you are not familiar with St. Helen's please click here.  As Shakespeare's parish church it is a must see too.
Located at:  Corner of Leadenhall & St. Mary Axe.   St Mary Axe, London, EC3A 8BN
Closest Tube:  Bank