Jermyn Street ~ The Best Shopping Street for Men in London.
Jermyn Street is, personally, my favourite street to shop on.  Located just steps from bustling Piccadilly Circus it offers a calm respite from the heavily touristed shops nearby.  Along a short stretch of road between Regent Street and St. James's Street you will find a wonderful array of small upscale shops catering mostly to men (though a few women's items can be found!).  It is a street that has a quintessentially British feel to it as it's laden with shops that have sold their wares for hundreds of years (though not always in this location) and yet still offer a feeling of intimacy, discovery and uniqueness.  With its welcome dearth of the ubiquitous High Street shops, you will find everything from haberdashers to shaving accessories, and from tailored shirts to cheeses.
History:  In 1664 Henry Jermyn, Earl of St. Albans and former Ambassador to Paris and The Hague was granted land from Charles II in the area known as St James's Field.  His first development was St. James's Square, a place that would be surrounded by approximately fourteen grand houses, with four streets - King Street, Charles Street, Duke Street and York Street - leading off from it.  The newly completed development flourished and became a fashionable address from the outset. When Jermyn died in 1683 the core infrastructure was as we see it today.  Because of his developments, Henry Jermyn is regarded as the 'founder' of London's West End.
On his eponymous street, residents have included Sir William Stanley; Sir John Churchill, 1st Duke of Marlborough; Sir Isaac Newton; William Pitt; Sir Walter Scott; the poet Thomas Gray; William Gladstone; and W. M. Thackeray.
Today:  Some of the shopping highlights (just to name a few) include the following:
Turnbull & Asser - founded in 1885 this firm's shirts have been worn by Picasso, Charlie Chaplin, Prince Charles, Winston Churchill and Ronald Reagan.  Another favourite of mine is Hilditch & Key.
John Lobb - Among several bootmakers here, Lobb was founded in 1866 & their footwear has been worn by Princess Diana, Frank Sinatra, Jackie Kennedy and Calvin Klein.
Paxton & Whitfield - Britain's oldest cheese shop who have been in business in London since 1742.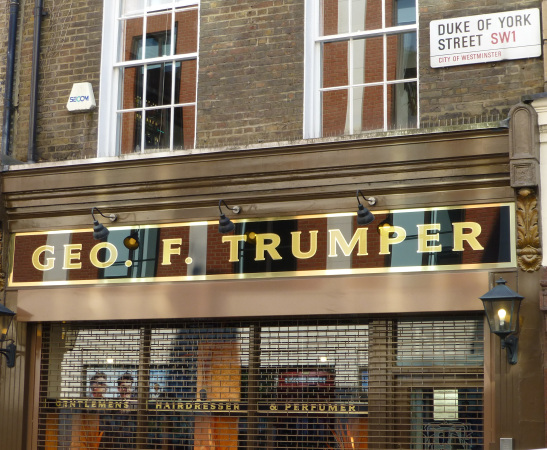 Geo. F. Trumper - a wonderful shaving shop on the corner of Duke of York & Jermyn St, since the late 1800s, offering my favourite cologne, Eucris.
Bates Hats - a family owned business selling hats for over 100 years.
In addition…  Jermyn Street is also home to the West End's smallest theatre and one of my favourite restaurants & bars (Quaglino's) is just around the corner.  The wonderful Christopher Wren built church, St. James's, on the north side of Jermyn St. is well worth a visit, and it hosts a small arts and crafts market.
Location:  Jermyn Street runs parallel to Piccadilly on the south side, between Regent Street and St. James's St.
Closest Tube:  Piccadilly Circus