The Painted Hall ~ arguably the greatest work of art in London not in a museum.
Located within the Old Royal Naval College in Greenwich is one of the most amazing rooms in Greater London - the Painted Hall.  The magnificent painted walls and ceilings, that took 19 years to complete, are filled with tributes to British naval power.  While they always have impressed and inspired, the cleaning and 'refreshing' of the paintings that was completed last year have made the space well worth a visit - even if you've been before.  But if you haven't visited this hall it should be on any local's or visitor's must-see list.
History:  Many of the articles written for LondonUnveiled.com contain references to Sir Christopher Wren and his protege, Nicholas Hawksmoor.  The Painted Hall is another such building designed by them as part of what was once the Royal Hospital for Seamen.  Originally intended as a dining hall for them, it was soon determined to be too grand for its original purpose.  From 1824 until 1936 it was known as the National Gallery of Naval art with over 300 paintings on display.  In 1939 it was used as the dining hall for officers at the Royal Naval College and while not used for this function today, the occasional wedding banquet still occurs here.  It is often referred to as the "finest dining hall in Europe".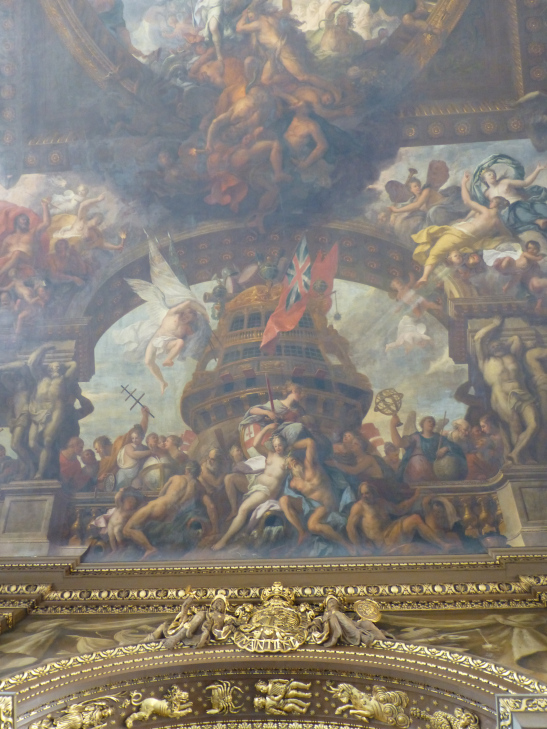 The Paintings:  While Sir James Thornhill may not be as well known as his son-in-law (William Hogarth) for painting, his work at the Painted Hall is arguably the best work of art in London not in a museum.  Thornhill began decorating the interior in 1708 with the commission requesting artistic renderings of British maritime power and linking the navy to Britain's fortune as an Empire.  19 years later his work was complete.  Gigantic figures perch uneasily on clouds, including George I, surrounded by Peace, Apollo, Time, Truth, Victory, America, Africa, Piety and Hercules, all jostling for space with cupids, roses, coats of arms, naval weapons and billowing drapery, looked down upon by Queen Anne (who paid for most of it).  While Thornhill was paid only £3 per square yard for the ceiling, and just £1 per square yard for the walls, he did receive a knighthood in 1720.  His legacy is the finest painted architectural interior by an English artist.
Nelson:  In 1806, 3 months after the Battle of Trafalgar, the body of Admiral Horatio Nelson laid in state here (5th - 7th January).  Yes - it was shipped back to England in a barrel of brandy!  He was later transferred to St. Paul's where it can now be found in the crypt.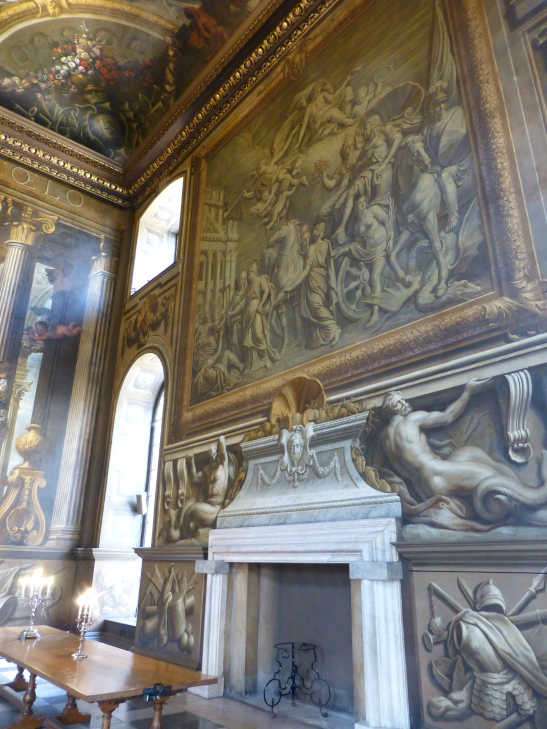 Visiting:  The Painted Hall is open daily (free admission) from 10am - 5pm (except 24-26 Dec).  There is a small gift shop (very small!) and donations are accepted.
Located at:   King William Walk, London, SE10 9NN
Closest Transit:  Cutty Sark (DLR) or Thames Clipper, Greenwich