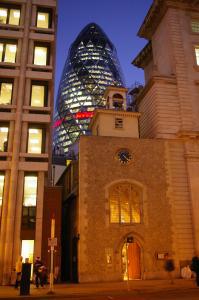 In today's world of terrorism "St. Ethelburga the Virgin within Bishopsgate" offers a compelling message and is an inspiration to those who seek peace and reconciliation.
Aside from its long name it is unique for many reasons.  It is the smallest church in London, at only 55 feet in length; however, when it was first built it was the largest building in Bishopsgate.  Originally founded around 1180, the present building dates from the 1400s.  It survived the Great Fire in 1666.
Explorer and sailor Henry Hudson worshiped here before leaving on his journey to the New World in 1607.  While his attempt to find the north-west passage failed, he is remembered in North America by the naming of the Hudson Bay.  The church had commemorative windows celebrating the life of Henry Hudson donated by the USA and the Hudson Bay Company.  Sadly there were lost because of the IRA bombing (see below).
The church remained mainly unscathed from German bombs in WW II.  In 1950 it became a Grade I listed building.  However, it was almost destroyed by the Irish Republican Army in a devastating terrorist attack on April 24, 1993.  On this date, the IRA detonated a large truck bomb in Bishopsgate, killing one and injuring 44.  The truck was parked at 99 Bishopsgate only a few metres away from the church.  The one ton bomb essentially destroyed the church - as well as devastating a wide area of about 1/2 kilometre radius around the blast centre.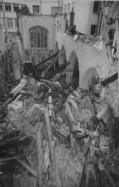 As a result of this bomb, major changes in London's security emerged - including the rapid proliferation of CCTV cameras throughout the city.
After the bombing, factions within the Church of England felt it was best to demolish the church.  However, public outcry led to an alternate plan - the rebuilding of the church building, its decommisioning, and its conversion to a centre for peace
and reconciliation.   The church now houses the St Ethelburga's Centre for Reconciliation and Peace. The Centre hosts and organizes over 100 public events a year exploring the relationship between faith and conflict.  It also provides a forum to discuss inter-faith issues and provides training on such issues.  The Centre estimates that over 10,000 people per year benefit and participate in their programs.
Their "Listen to the World" program (typically on Friday or Saturday evenings) brings in musicians and poets from around the world whose art form typically communicates the struggles they face.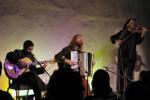 All events are listed on their website and are open to the public.  Door fees may apply, and tickets as a discount can often be purchased in advance.  If not attending an event, the building itself is open to visitors on Fridays from 11 - 3pm.  See their website for details & an event calendar: http://stethelburgas.org
Located at: 78 Bishopsgate, London EC2N 4AG
Closest tube: Liverpool Street
Photo credits:  St. Ethelburga's website.