Gillespie Park & Ecology Centre ~ a wonderful nature reserve
Gillespie Park is a 2.8 hectare local nature reserve located near Arsenal's Emirates stadium which provides the community with a great escape from the busy streets around Highbury and Arsenal tube station.  The reserve is an excellent example of how brown spaces can be converted into valuable natural spaces.  If you find yourself in this part of London, it is a great place to escape to providing a quiet retreat for peaceful contemplation.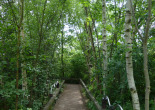 History:  Up until the 1960s this land was used as a railway siding and marshalling yard for the Great Northern Railway.  Then, for many years, it lay vacant until the 80s when a plan was put in place to convert it to a nature reserve.  It opened to the public in April 1983.
Today:  The reserve is currently home to a wide range of wildlife, despite its fairly small size.  Over 90 species of birds, 20 butterfly species and 240 plant varieties can be found here.  There is also a broad range of habitats, including grassland, woodland and ponds.  These habitats are managed using traditional methods such as hedge laying and coppicing.  On Sundays in summer the Timebank Cafe is open from 11-5.
Ecology Centre:  The park is home to the Islington Ecology Centre.   The centre is home to Islington's Nature Conservation Team that is also involved with the Parkland Walk and Barnsbury Wood, which combined with Gillespie comprise the three nature reserves in Islington.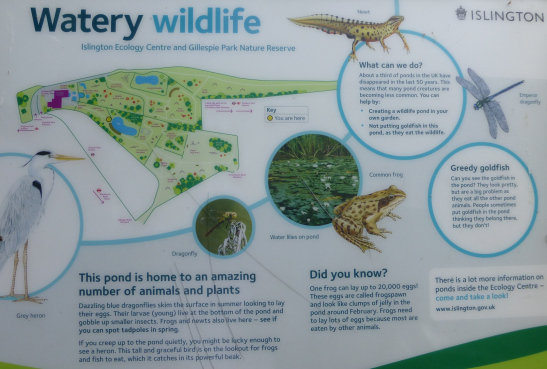 The centre is home to a demonstration wildlife and drought tolerant garden, and also offers a wide range of courses, activities and talks for adults as well as schools.  For a list of events, which may include wildlife photography workshops or walks, click here.  When built, the centre was Islington Council's first carbon neutral building with many sustainable features such as an eco-kitchen, sun tubes, a biomass boiler and a wind turbine.
Visiting:  The park is open daily from 8am - dusk, though closed on days when Arsenal's Emirates stadium is in use.

Located at:  191 Drayton Park London N5 1PH
Closest Tube:  Arsenal