St. Lawrence Jewry ~ A Wren church that is home to the August music festival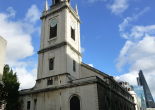 St. Lawrence Jewry is the official church of the Corporation of London and is located at the heart of the old Roman city.  One of Sir Christopher Wren's masterpieces (and one of his most expensive), this church is home to the August Music festival offering daily lunchtime concerts on weekdays to those who find themselves in the City (details below).  Whether you visit to see an excellent example of Wren's architecture or to enjoy the music, this church is well worth a visit.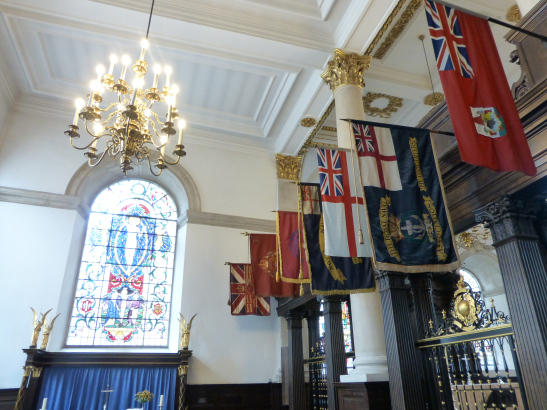 History:  The original church was first thought to have been built here in 1136.  At the time, St. Lawrence was one of over 150 churches in London, with several under this name.  To differentiate which church was which, this one adopted the 'Jewry' suffix as it was located in the heart of London's Jewish population.  The name can also be seen in the local street names which include both 'Old Jewry St' and 'Jewry Street'.  Jewish people followed William the Conqueror to England and had a significant presence in London until their expulsion by Edward I in 1290.
The church was destroyed by the Great Fire in 1666 though some of the remnants are preserved in display cases near the entrance.  Christopher Wren began the rebuilding of the church in 1670 and completed it in 1677. after being destroyed in the Great Fire.  On December 29, 1940 the church was damaged during the Blitz in WWII.  In 1950 it was designated as a Grade I listed building, and in 1957 restoration was completed.  One significant enhancement was the addition of the Klais organ in 2001 - a millenium project that brought a world class organ to the City.
Roman Connections:  Some historians have claimed that the curvature of Gresham Street and Basinghall St are remnants of the old pathways that surrounded the 7000 seat Roman amphitheatre that was located here - whose actual remnants can still be seen underneath the Guildhall Art Gallery. See our other article on this amphitheatre here.
St. Lawrence:  Of note is the gridiron found in their coat of arms and atop their weather-vane.  It recalls the method by which Lawrence was martyred.  He was burnt to death on a gridiron for his defiance of the Roman Emperor.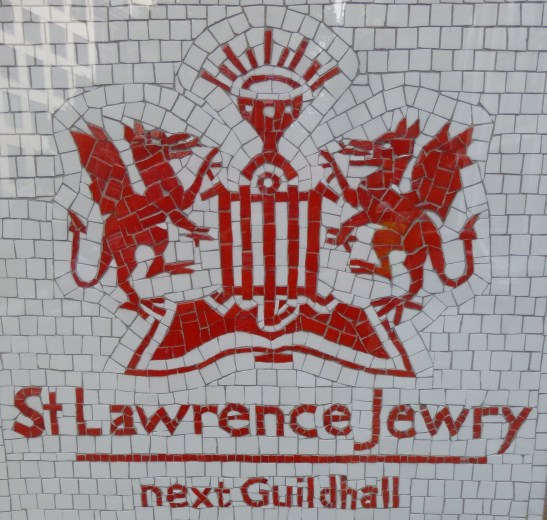 Services:  In line with most City churches, there are no weekend services.  There is morning prayer daily on weekdays, and on Friday there is a lunchtime communion service.  There are no services in August due to the music festival.
August Music Festival:  It has been a tradition at St Lawrence Jewry that they hold a summer festival of some significance. This is unusual in the City of London in that most churches 'shut up shop' for the month of August. Every 1pm lunch time during the month (weekdays only) they host a concert - typical chamber & coral music.  These are excellent to attend and a full schedule can be found on this website.  Outside of August, the church periodically holds various special musical events - all of which can be found on their website.
Located at:  Gresham St (next to Guildhall), City of London, EC2V 5AA
Closest Tube:  Bank, Mansion House, St. Paul's or Moorgate (all about the same distance).