Saint Bartholomew-the-Great is an Anglican / Episcopal church in West Smithfield and is one of London's oldest churches. Founded in 1123 as an Augustinian Priory, it has been in continuous use as a place of worship since at least 1143. The church was built when Henry I, son of William the Conqueror, was King of England.  The Priory was dissolved in 1539 and the nave of the Church was demolished. The monastic buildings were largely intact and the Canons' choir and sanctuary were preserved for parish use. Under Queen Mary, there was briefly a house of Dominican friars here, before it reverted to being a Parish Church under Queen Elizabeth I. Various parts of the building were damaged or destroyed through the centuries until the restoration began in the 19th century, first in the 1860s and then, under Sir Aston Webb, in the 1880s and 90s and on into the 20th century. Given it survived the Great Fire of 1666 and the Blitz in World War II much of the church is historic and original.  In addition to the church there is a wonderful historic Tudor Gateway built atop the entrance to the south aisle of the nave.  It is one of the oldest surviving timber framed Tudor facades.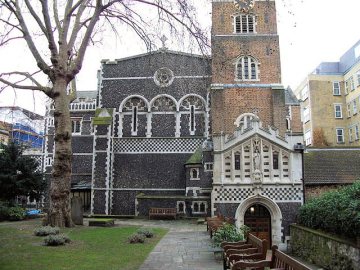 Today the Church has a reputation for its wonderful architecture & traditional formal worship.  There are services throughout the week, with numerous services on Sundays.  The church is open daily for visitors (hours vary) & an admission charge applies.  Visit their website for more details: www.greatstbarts.com
The church is also a regular location for film and television productions.  It has appeared in numerous award-winning films including Four Weddings and a Funeral, Shakespeare in Love, The End of the Affair, Amazing Grace, Elizabeth: The Golden Age and The Other Boleyn Girl.  It's television appearances include Madame Bovary, The Real Sherlock Holmes, Spooks (MI-5 in the USA), and The League of Gentlemen Christmas Special.
A café-bar is open in the 15th Century Cloister of the Church daily from 10.00 – 4.30 Monday to Saturday and before and after all three services on Sunday. We serve a good selection of fine wines, monastic beers, coffee and food.
Located: just off West Smithfield & Cloth Fair.
Closest Tube: Barbican